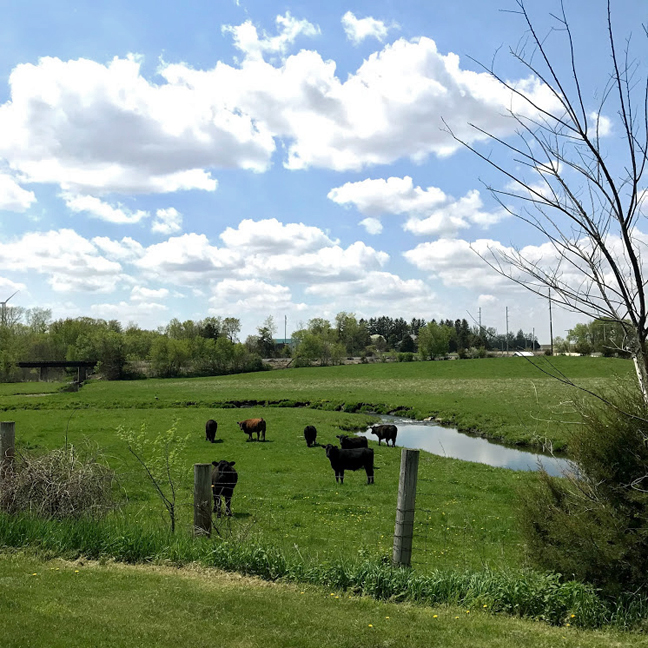 Happy cows out on spring pasture
And as I typed that, I just realized we've been in business for 15 years now! Wow.
2019 has been a year of change. Good changes. The biggest one being that I made a career change! After lo, these many years as a software developer, I accepted a job on the faculty at NIACC as an IT instructor. It's been a challenging and rewarding change, and I'm loving it!
One nice change that's come along with it is that I now have a good chunk of my summer off (although, as a new instructor, I'm spending a lot of my summer learning and planning for next semester, plus teaching a couple of summer classes and taking a couple of summer classes.) So I'm excited to use some of that time for farmers market!
We've decided to attend as regulars this year at the North Iowa Farmers Market in Mason City on Friday afternoons, after just being there a few times last summer.
And we've decided to stay a little closer to home on Saturday mornings this year and attend the Charles City Farmers Market. We used to do this market many years ago. I'd have to really dig in the archives to figure out how long ago that was. I tried to find some appropriate song lyrics… "the boys are back in town"?  Theme to "Welcome Back Cotter"? I don't know, but I'm excited to see some old and new faces there.
We do still have grass fed beef quarters available! Let us know if you'd like to fill your freezer for summer.
Come see us at the markets this weekend – I'll be running some market-only specials!
~Kelli
8 years ago:
10 years ago: