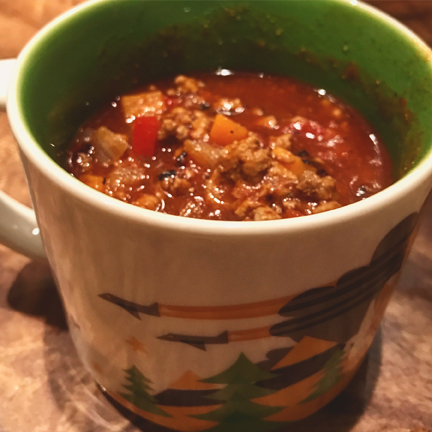 I'm guessing Santa might be bringing a few of you an Instant Pot for Christmas, so I thought I'd jump on and share this recipe. I'm beginning to feel a bit like an Instant Pot prophet, but we literally use this thing 3 to 4 times a week. And as I sit here now, I admit I'm nursing an enormous food baby. This chili is so good I couldn't help but go back for seconds thirds.
This is a sweet chili. And a smoky chili, with just the right amount of heat. And then there's the sweet potato, which somehow takes things to another level.
I made this with ground pork because I'm hoarding the precious few packages of ground beef we have left. Gotta make it stretch until March! But now that I've made it with ground pork I doubt I'll ever make it with ground beef. You don't mess with a good thing.
As with almost every Instant Pot recipe, this one is super easy to throw together. And it all gets done in the pot, so clean up is a breeze, too.
Set your pot to sauté, and when it's hot add a tablespoon of olive oil and a large onion, diced. Cook a few minutes, stirring occasionally, then add a pound of ground pork. Cook and stir, breaking up the big chunks, until browned. Then just dump in all the rest of the ingredients.
Cancel the sauté function. Put the lid on, turn the valve to pressurize, and set the pot to High for 9 minutes. When the cook time is up, let it natural release for 5 minutes and you're ready to eat. But it will be fine if you need to just leave it on "keep warm" for any length of time. So versatile!
And that's it, really. Not much more to say about a super simple recipe that's healthy to boot!
How to Cook :: Sweet Potato Chili
Ingredients
1 lb ground pork
1 T olive oil
1 large yellow onion, diced
1 large sweet potato, peeled and diced
1 medium-large red pepper, seeded and diced
1 T chili powder
1 T ground cumin
1/2 t dried oregano
1/2 t smoked paprika
1/2 t chipotle powder
1 14-15 oz. can fire roasted tomatoes, undrained
1 14-15 oz. can tomato sauce
1 cup chicken broth
1 t salt
1/2 t pepper
Cilantro (optional)
Shredded cheese (optional)
Instructions
Set Instant Pot to the Sauté function.
When the display changes to Hot, add olive oil and diced onion.
Sauté a few minutes, stirring occasionally.
Add ground pork and cook, stirring and breaking up large chunks, until browned.
Add remaining ingredients.
Cancel sauté function.
Place lid on pot and set valve to pressurize.
Set pot to High for 9 minutes.
Allow to natural release for 5 minutes, then quick release.
Top with shredded cheese and cilantro, if desired.
https://sugarcreekfarm.net/how-to-cook-sweet-potato-chili/