We've been celebrating the filling-of-the-freezer with pork lately. It's like Christmas! So I'm going to try and hit you with some of my favorite pork recipes.
But first, a story…
Over a year-and-a-half ago, Olivia and I did a Whole 30 diet. You can read about my experience with that here. As you'll read in that blog post, Matt did not participate with us.
Fast forward to Thanksgiving 2016. Liv was experiencing some skin and gut issues that she was trying to resolve through changing her diet. ("I want to treat the cause, not just the symptoms," she said, which is a whole other blog post.) She was basically following a "Paleo" eating program, which is similar to Whole 30, just a little less restrictive. While she was home for Thanksgiving break, Matt decided to eat Paleo with her to be supportive.
And then he just kept on eating that way.
Being a power lineman, and a former high school football player, achy joints were just "life". Or so he thought. Since he started eating this way, those everyday aches and pains are gone. Now he really only experiences them on days when he's done a lot of tough physical stuff at work, or when he's eaten something with gluten in it. Eating gluten also affects his sinuses, making him feel like he has allergies, or even makes him feel like he has a hangover. Now he sleeps better, he thinks clearer, he has way more energy, and he lost 20 pounds.
So how we cook has changed a bit. Some of the ingredients we use may sound weird, but they've become our new normal and replaced things that we no longer buy. This "Egg Roll in a Bowl" recipe is a good example. Coconut sugar replaces brown sugar, and coconut aminos replace soy sauce. But if you decide to use soy sauce, be sure and use the low-sodium kind. Or start with half the amount and adjust to taste. I speak from experience – I once subbed soy sauce 1-for-1 for coconut aminos in a soup and it was so salty we couldn't eat it. Oops.
You start with by browning 2 pounds of Sugar Creek Farm ground pork in a large frying pan and dicing 2 red onions.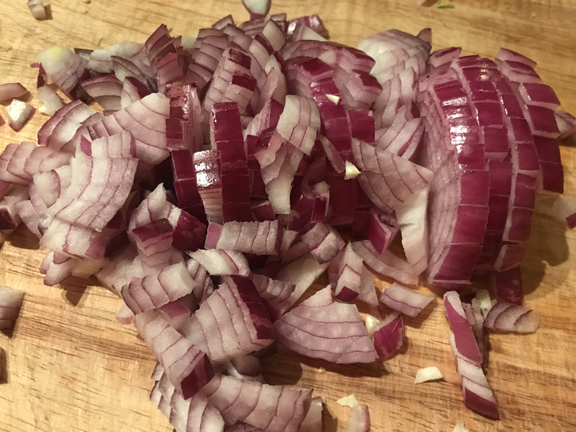 Once the pork is browned, add the onions to the pan along with 2 T sesame oil.  Cook until onions are soft.
Then add powdered ginger, ground black pepper, minced garlic, sea salt, coconut sugar and chicken broth.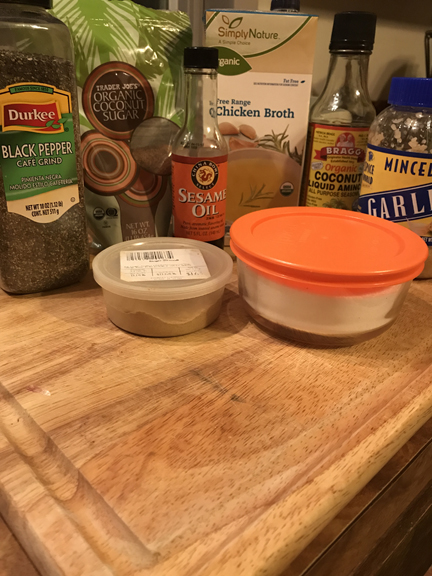 Mix well into the pork/onion mixture.
Chop up a medium-sized head of cabbage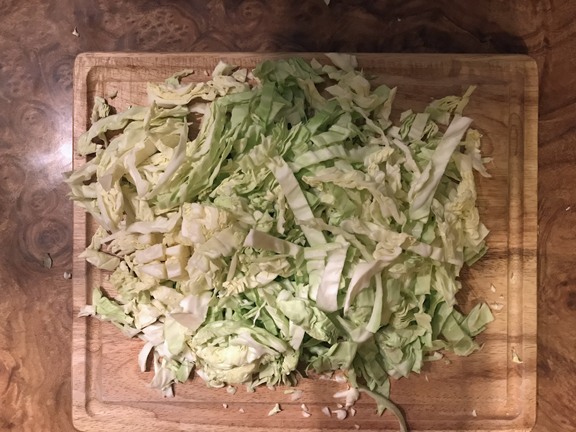 and add as much of it as you can to your pan. As I said, you'll need a large pan!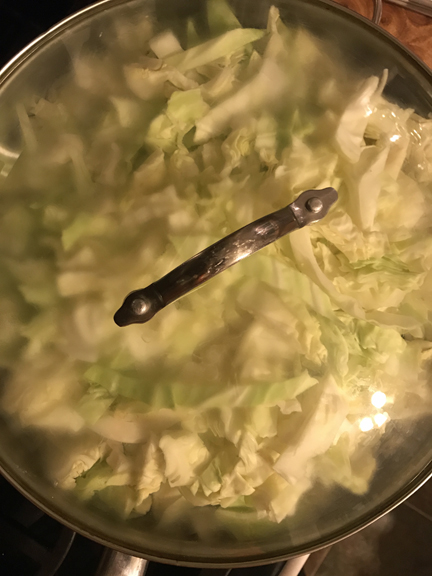 Cover and let the cabbage wilt down.
In the meantime, shred 4 medium carrots. Does anyone else still have one of these things hanging around?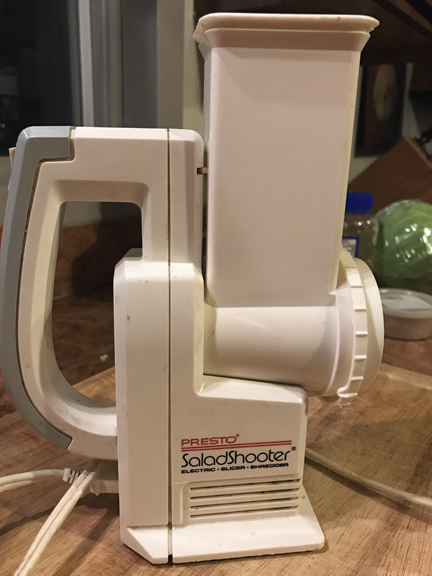 We got our Salad Shooter as a wedding gift and I still love it so much. I sure hope it outlives me. So shred those carrots, and about the time your cabbage/onion/pork mixture looks like this: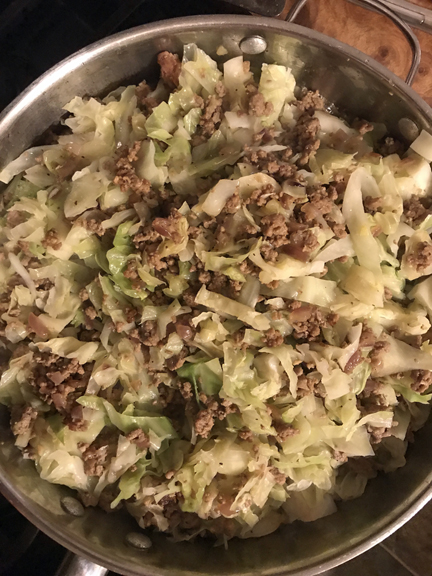 give it a stir, add in the rest of the cabbage that didn't fit the first time, and add in the shredded carrots.
Cover and cook a few more minutes, until the carrots are soft and the rest of the cabbage is wilted down. Add the coconut aminos, give it a final stir, and it's done!
Since Whole 30/Paleo preclude grains of any kind, we like to use cauliflower rice. It's pretty easy to make from fresh cauliflower, if you have a good food processor. In fact I made some from our garden cauliflower this summer and froze it for winter. But I also really like Trader Joe's brand.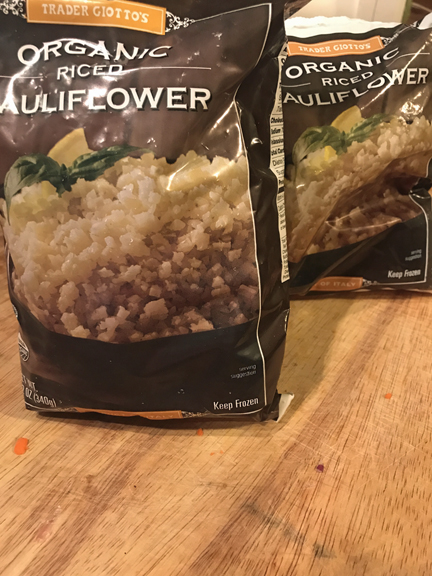 Cauliflower rice is so quick and easy! Just throw it, still frozen, in a pan and saute it 2 or 3 minutes until the "rice" is hot and the water is cooked out of it. Then serve your egg roll mixture over the rice.
So yummy! Tastes exactly like the inside of an egg roll!
How To Cook : Egg Roll in a Bowl
Ingredients
2 pounds Sugar Creek Farm ground pork
1 medium cabbage, chopped
4 medium carrots, shredded
2 medium red onions, diced
2 T sesame oil
2 t powdered ginger
1/2 t black pepper
1 T minced garlic
2 t salt
1/4 c coconut sugar
1/2 c chicken broth
2 T coconut aminos
Instructions
Place meat in large pan and cook until browned.
On medium high heat, add the onions and sesame oil. Cook until onions are soft.
Reduce heat to medium.
Add spices, sweetener, and broth to the pan and stir well.
Add cabbage (or as much as will fit).
Cover and cook until cabbage is wilted.
Add any remaining cabbage and carrots.
Cook 2-3 minutes more, or until carrots are soft and remaining cabbage is wilted.
Stir in coconut aminos.
Serve plain or over cauliflower rice.
https://sugarcreekfarm.net/how-to-cook-egg-roll-in-a-bowl/