Sunday we loaded batch #2 of chickens out to the processor. It's always interesting to see what our numbers end up to be. I try to keep track of how many we start with and how many we end up with, but I miss some here and there. We always wonder if the hawks or owls or eagles have taken any without us being aware of it. And then there's Titus.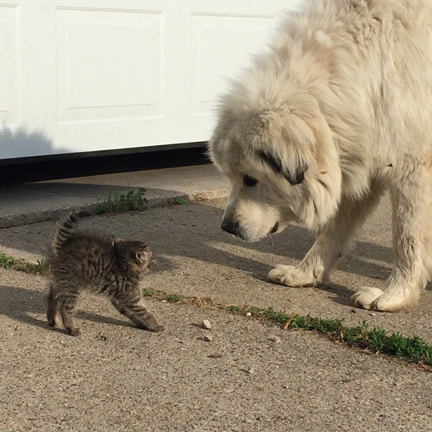 Titus is more scared of new kittens than they are of him. But by now they are best of friends.
Titus is doing much better this year than last year. But big dogs take a while to fully mature, and at 20 months old he's definitely still got some puppy in him. He gets bored and finds it fun to chase the chickens around the shed. One day I arrived at the pen and found him with a chicken on its back between his paws, licking the heck out of that poor chicken. And in the middle of a big growth spurt, a month or so ago, he ate one. (I'd forgotten that Pyrenees have a big growth spurt around 18 months old.)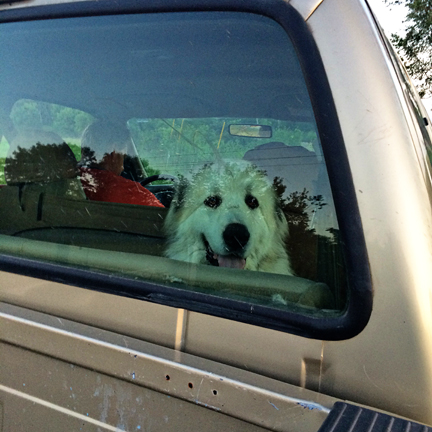 Titus getting a ride home from work
On the flip side, he's mostly very gentle with them. If I bring food out for him in the chicken pen, the chickens try to take it and he just gently noses them away. And he doesn't mind if they sit on him.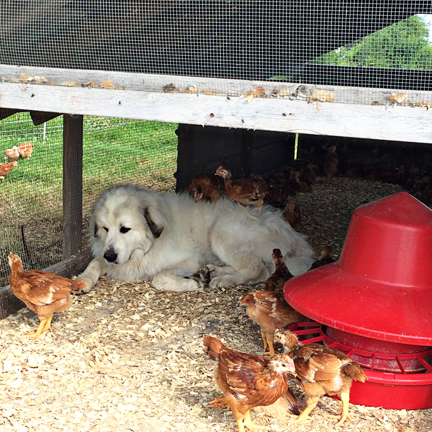 Of the 3 Pyrenees we've had, Titus has been the best one. He doesn't bark as much as the others, he doesn't wander as much as the others. (Although a Pyrenees isn't really wandering, he's patrolling what he considers his territory. They're big dogs, they can cover a lot of territory. However your neighbors may not appreciate this service.)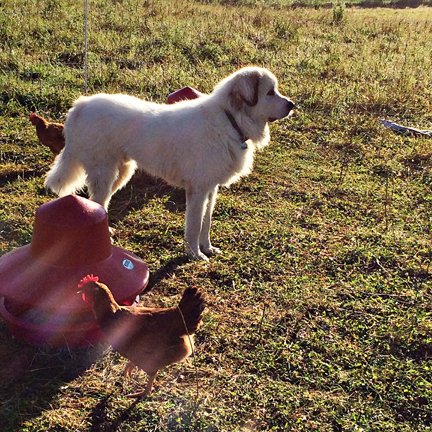 So we were quite curious to see what story the numbers would tell. There have been a lot of hawks hanging around the pasture this summer. They sit in the trees at the perimeter, screeching as they fly over the chicken pen.
As it turned out, Titus deserved a great big bone for his work. We only lost 12 out of 186, which is a 6% death loss. And some of those losses came before they went on pasture with Titus. We can most definitely live with that. We count anything under 10% as a victory.
Well done, Titus!
4 years ago:
Installment # 11: One of these things just doesn't belong here
6 years ago:
Watchin' out for me