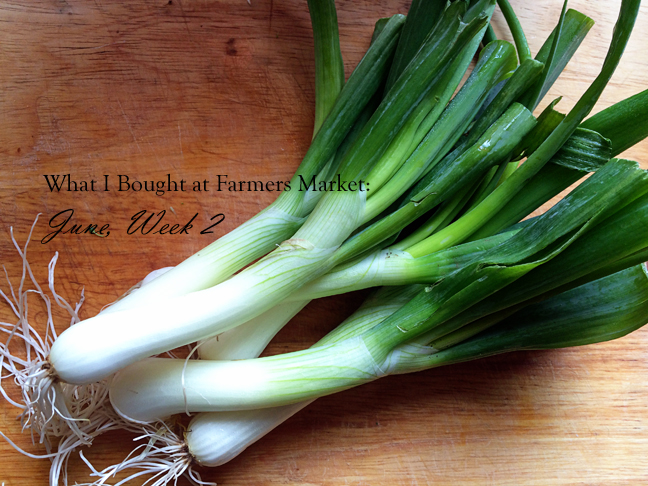 Remember the first post in this series, where I mentioned that I had bought the food, prepared the food, and taken pictures of the food, but didn't get around to posting about the food right away?
Apparently that happens a lot.
So playing catch-up again, here is June, Week 2! This week we were at the Osage Downtown Farmers Market. This market happens 8:00 to noon on the 2nd Saturday of the month, June through September, just south of the intersection of 7th and Main. It's a small but really diverse market. This particular day there were 6 vendors that included flowers, strawberries and veggies, baked goods, soaps, homemade jam, and of course our meats and Olivia's pies. Impressive for a small market, I think!
Of course, being a morning market, I'm usually hungry for breakfast. These sticky rolls hit the spot: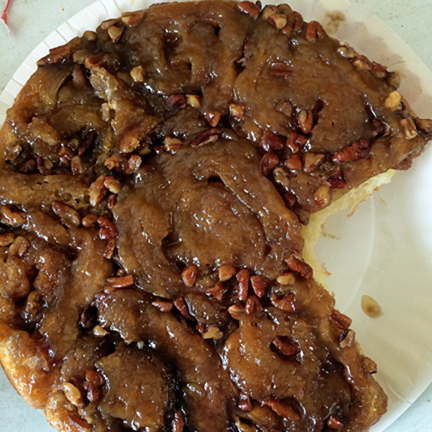 So soft and just the right amount of sweet!
One vendor was selling homemade jam. Rhubarb is one my favorite things on earth so I couldn't pass up a jar of cherry rhubarb jam. She said it was her best seller and I can see why! I've been enjoying it on toast, but thinking I'm going to have to play around with using it in a marinade with some chicken.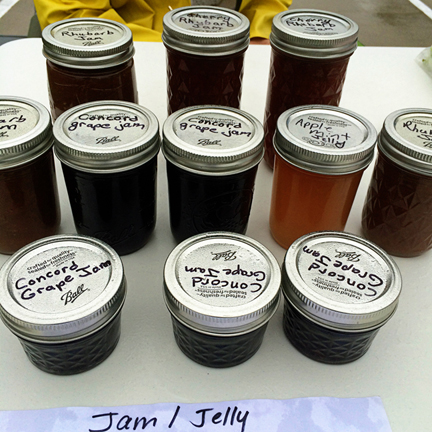 Another vendor had a beautiful display of soaps, scrubs, shaving kits and lib balms. I picked up a minty lip balm and I love it! Very nourishing for dry lips!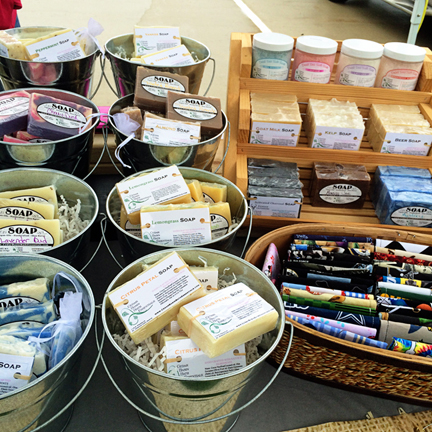 Finally I picked up a bunch of onions and a beautiful head of broccoli. I put these together in a broccoli salad. Usually I use dried cranberries in this salad, but since I had a bag of purple grapes languishing in the fridge I decided to use those instead.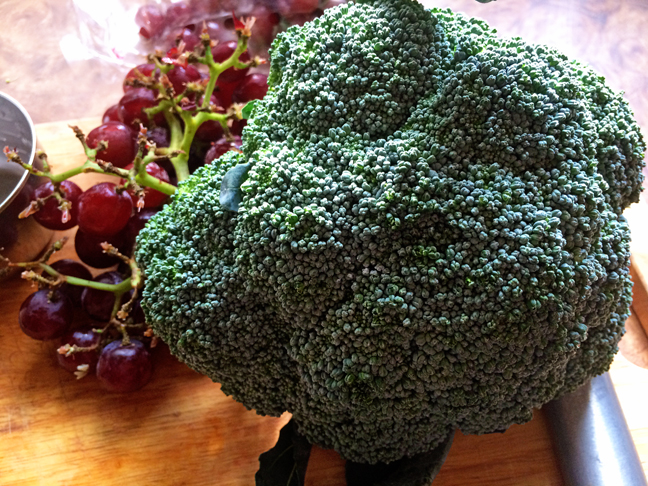 I feel like such a superhero when I rescue languishing food and put it to good use before it becomes a science experiment!
We had the broccoli salad for a simple supper with some of our grilled hamburger patties. I didn't get a picture of the plate. You guys, I get hungry and completely forget about photography!
What are you buying at farmers market lately? And how are you using it?
Broccoli Salad
8 slices bacon
1/3 cup sunflower seed kernels
1 head broccoli, cut into pieces
1/3 cup diced onion
1 cup seedless grapes, halved
1 cup mayonnaise
3 T. apple cider vinegar
2 T. sugar
salt and pepper to taste
Fry bacon until browned. Drain and crumble. Combine bacon pieces with sunflower seeds, broccoli pieces, diced onions and grapes. Whisk together remaining ingredients for dressing and pour over broccoli mixture. Cover and refrigerate until serving.