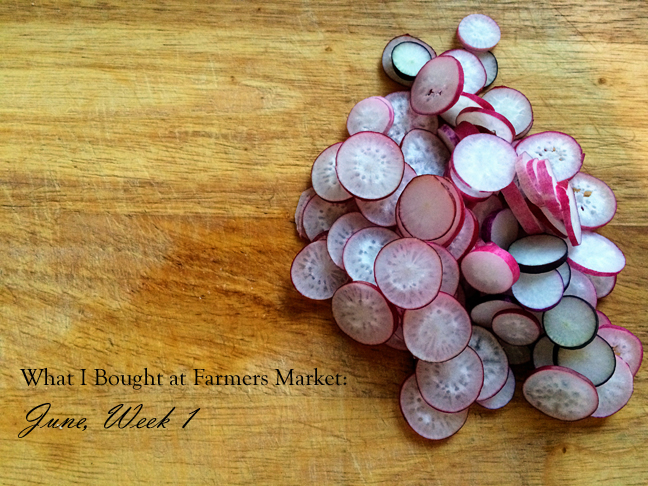 When I'm selling at market I usually try to buy some things to take home as well. A couple of weeks ago I had the idea to start a weekly post on what I bought at the market that week, what I did with it when I got home, and which of our meats I paired it with. The first weekend of June I bought the food, prepared the food, took pictures of the food… but didn't get around to posting about the food. Until now!
If I'm going to shop at market it's either during a slow moment, or if I have help. The first week of June I was at the Clear Lake Farmers Market, and I had Rafe along. But Rafe doesn't feel confident enough to run things by himself yet, so I sent him out to do the shopping. First things first, I wanted rhubarb and it goes fast at market!
After he procured the rhubarb for me, I sent him back out for "something green and leafy"… lettuce, spinach, whatever he wanted to buy except for kale or chard. I was trying to avoid the bitter greens that I didn't think most of my family would eat. What did he bring back? "Mixed Greens", consisting of arugula, tatsoi and mizuna. I wasn't sure how bitter that mix would be or how the fam would like it, but I was excited for the challenge.
Finally I sent him for some radishes. Yes, this is a lot of back-and-forth. Yes, this is my strategy for keeping a squirrely 13-year-old boy occupied at market.
So this was my haul: rhubarb, 2 bags of mixed greens, radishes, plus some asparagus from a friend. Yum!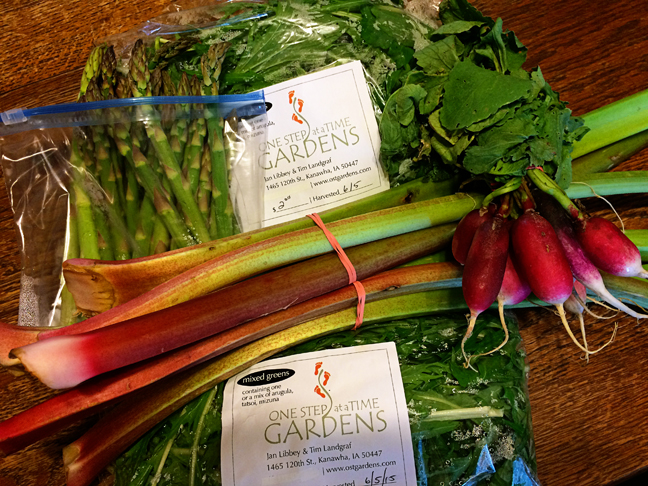 Since I expected the greens to be at least slightly bitter, I went with a slightly sweet dressing figuring that would help them go over better with the family. A little bacon, some walnuts, plus the radishes and I had a winner! (See recipe below)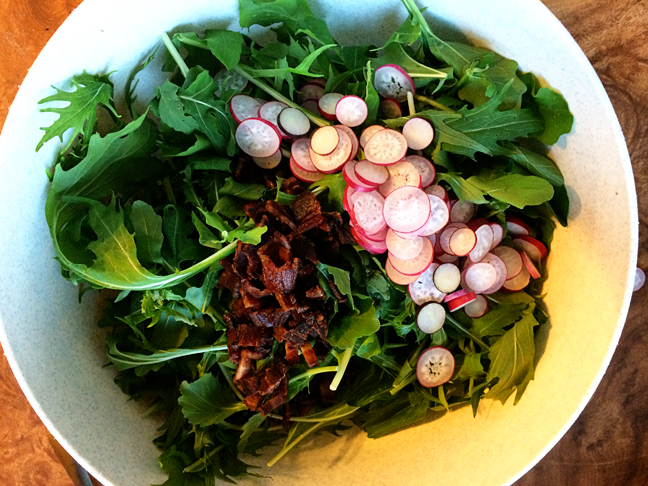 The asparagus I simply steamed and salted. We paired everything with some ribs slow cooked on the smoker, courtesy of Madeline's boyfriend Dustin. You could also use my usual rib recipe with our beef short ribs.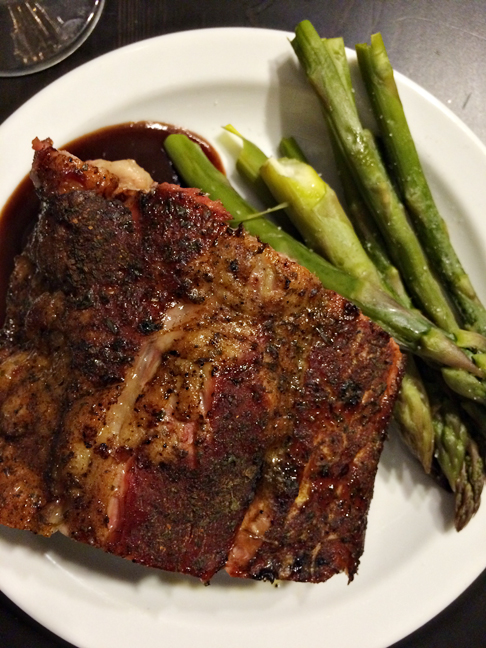 A glass of wine and we had ourselves a feast!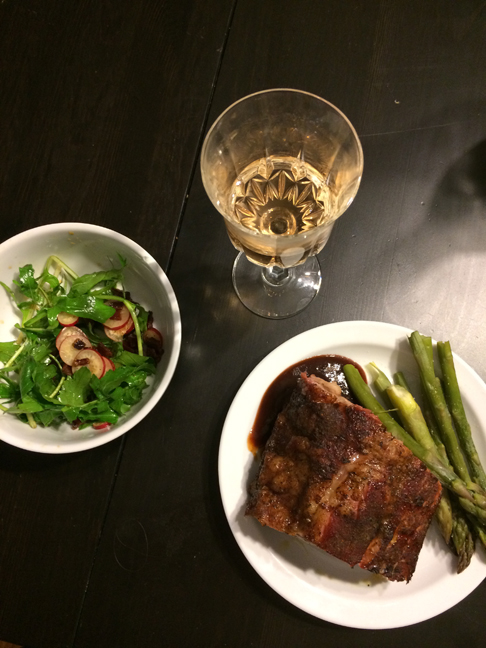 But it wouldn't really be a feast without dessert, would it? For that I turned to my mom's recipe for rhubarb crisp. (See recipe below)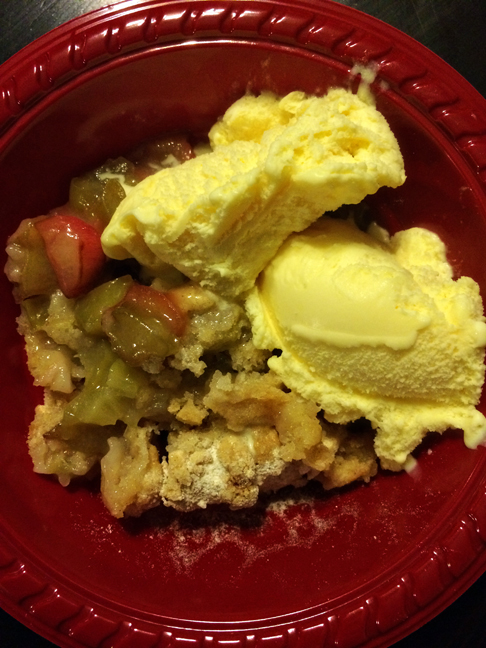 Warm from the oven with some vanilla ice cream on top… perfection!
What did you buy from the farmers market this week?
Mixed Greens with Warm Bacon Dressing
4 slices bacon, cooked, drained and crumbled
3/4 cup olive oil
1/3 cup red wine vinegar
1/4 cup sugar
1 teaspoon salt
1 clove garlic, minced
1 bunch mixed greens
4 radishes, or to taste, sliced
Walnuts, pecans or sliced almonds, to taste
Place mixed greens, sliced radishes, bacon crumbles and choice of nuts in large bowl. Combine olive oil, red wine vinegar, sugar, salt and garlic in a small sauce pan. Warm over low heat, whisking dressing ingredients until smooth. Pour over salad and toss to coat.
Rhubarb Crisp
Preheat oven to 350 degrees.
4 cups rhubarb, sliced
3 Tablespoons flour
1 cup sugar
Combine above ingredients and pour into 9×13 pan.
1 cup sugar
1 cup flour
1 teaspoon baking powder
1/2 teaspoon salt
2 Tablespoons butter
1 egg, beaten
Combine, making a lumpy batter. Pour over rhubarb mixture. Sprinkle with cinnamon. Bake 45-50 minutes.