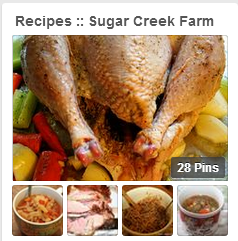 Just wanted to share with you all our new Pinterest board with all of the recipes from our site, Recipes :: Sugar Creek Farm.
Now you can easily pin our recipes from there to your own Pinterest boards, and follow our recipe board so that new pins will show up in your own Pinterest feed.
Going through the recipe posts was a nice walk down memory lane. In particular, I love this one:
because it's the story of me and my best friend's 30th birthdays.
And I love this one:
because there's an adorable picture of my now sixteen-year-old middle child when she still had that adorable gap in her front teeth.
And I love that so many of the recipes I've shared have a story associated with them. More recipe posts are in the works!
1 year ago: