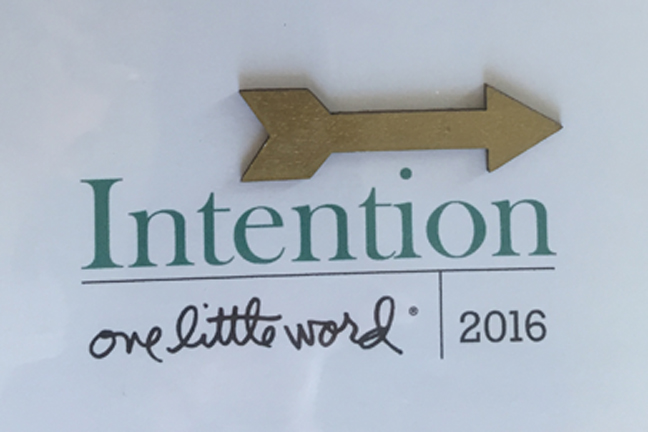 "Live with intention.
Walk to the edge.
Listen hard.
Practice wellness.
Play with abandon.
Laugh.
Choose with no regret.
Appreciate your friends.
Continue to learn.
Do what you love.
Live as if this is all there is."
~ Mary Anne Radmacher
It's been a couple of years since I picked a word for the year, and about 5 years since I followed through with Ali Edwards' One Little Word class and completed a OLW album for my word. But I'm trying it again this year, and enjoying it very much so far.
Sometimes you choose your word, sometimes it chooses you. Late last year I watched Dr. Wayne Dyer's movie "The Shift", and then read his book The Power of Intention. It's a hard book for me to describe, it was a hard one to wrap my brain around, but it really gave me a new perspective to think about. And as I continue to read more of Dr. Dyer's books, I wanted to keep the word "intention" in the foreground of 2016. He says something like, do you want to live the same year 70 times? Or do you want to live 70 years? I don't want to get stuck in a rut of living, I want to be intentional about how I live my years.
The class assignment for February is to choose one thing to do every day. My big, main intention for the year is to write. I know, I'm a bit of a broken record in that department. But I'm choosing writing as my one thing this month, whether that be morning pages, blogging, poetry… whatever. Just so I'm writing.
"If one advances confidently
in the direction of his dreams,
and endeavors to live the life
which he has imagined,
he will meet with a success
unexpected in common hours."
~ Henry David Thoreau
What are your intentions for 2016?
2 years ago:
R.I.P., BWD