It all started with tortillas. My sister-in-law asked if they could bring us anything from Texas when they came to visit Memorial Day weekend. Since shrimp doesn't travel so well when you're flying + driving, we settled on fresh, authentic, flour tortillas.
So what to make to go with the tortillas? I considered these pork carnitas. Even though we aren't raising pork at the moment, we're still stretching the last of the pork cuts we have in the freezer. I considered trying the pork carnita recipe with a beef roast instead. I considered straight-up tacos with ground beef.
And then I wondered, could you make fajitas in the crockpot? A quick Google search said, indeed you can. And then I wondered, could you make fajitas with a beef roast instead of steak? Again a quick Google search said, go for it.
So I started with a 3-pound boneless beef sirloin tip roast,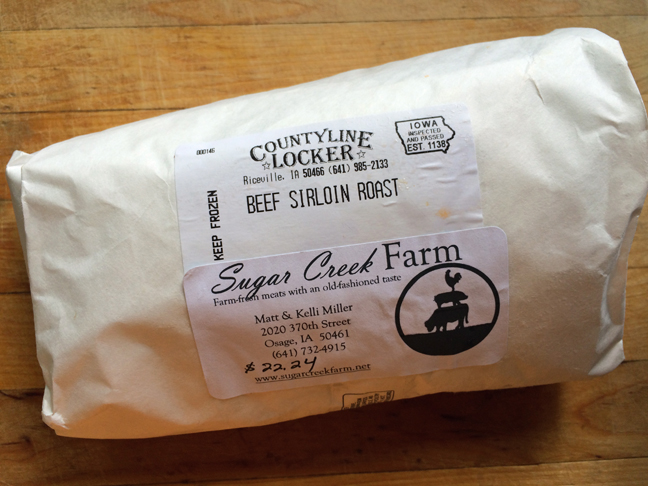 a couple of green peppers,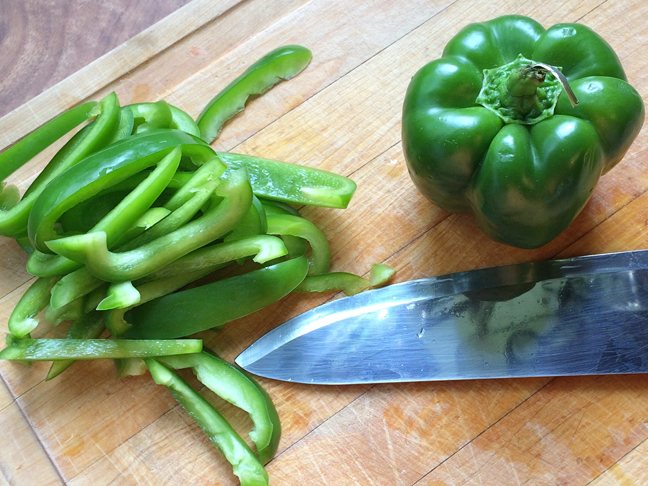 a couple of red peppers,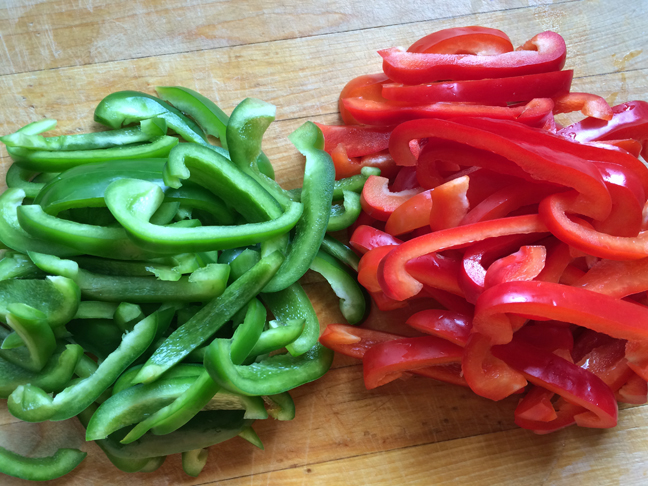 and a couple of onions.
Then it was time for the seasonings. Most of the recipes I looked at called for some combination of chili powder, cumin, coriander, salt and pepper. I didn't have any coriander, and it's one that's hard to substitute for. So I literally started taking the lids off various spices I did have in the cupboard and smelling them to see what might combine well with the chili powder and cumin.
Some people might say "weird". I say this is where cooking becomes a "creative art".
Also, I would rather make a crazy substitution than make another trip to town.
I strongly considered a smoked hickory salt I have, thinking the smoky flavor would work well for fajitas and I could just leave the regular salt out. But I was afraid it would come out too barbecue-y. So I ended up going with ginger.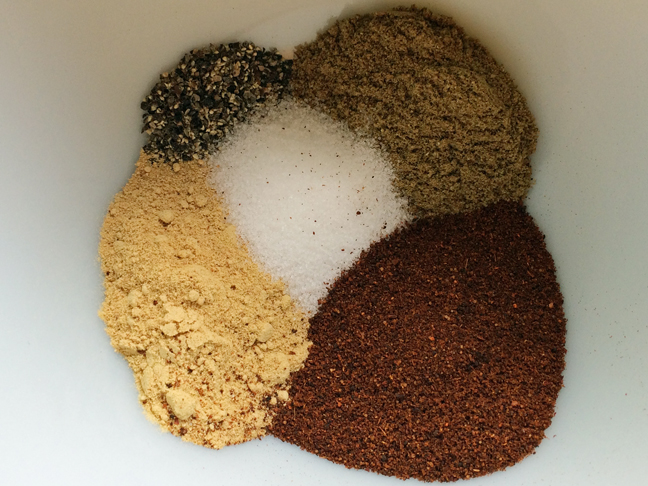 The onions get piled in the bottom of the crockpot first, to keep the roast moist from underneath.
The seasonings get mixed together and rubbed all over the roast, which then gets placed on top of the onions.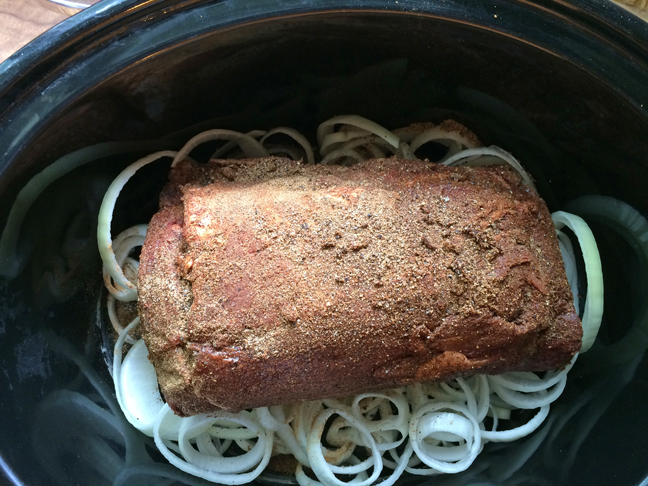 Pile the peppers on top of the roast and sprinkle any extra spice rub over them, as well as some minced garlic and soy sauce.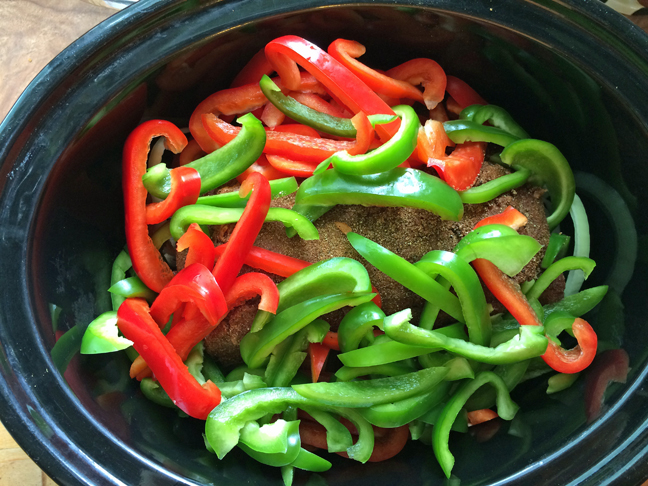 I put the roast in around 1:30 in the afternoon on High and figured we'd be able to eat around 5:30.
At 3:00 I checked on it, just to discover I'd forgotten to press "Start".  Oops.
But even with a delayed start, when Matt checked the internal temperature of the roast around 6:00 it was at 160 degrees. Perfect!
Most recipes called for shredding the meat, and you can sure do that. But I wanted the strips of meat like real fajitas so I simply sliced the roast into strips. That's why a sirloin tip or rump roast works well for this. They hold up well for slicing even after being slow cooked.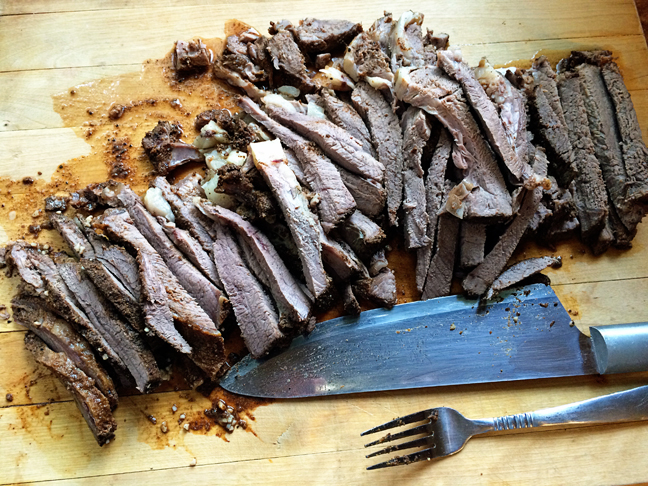 If you wanted to go the shredding route, a bone-in chuck or arm roast would also work. You might need 4 to 5 pounds of that type of roast to make the same number of servings, to account for the weight of the bone.  Also I would cook those types of roasts on low for a longer time so that they easily shred and fall apart when they're done.
Another thing I considered doing, and still want to try sometime, would be to take those strips of beef and fry them in a cast iron skillet with some olive oil before serving. You could also fry the peppers and onions with the meat. That would get you even closer to that authentic fajita experience, I think.
But since supper was already past due, we just went with the beef strips straight out of the crockpot. And they were wonderful!
Matt kept his fajita (er, fajitas plural, since he ate many of them) pretty simple, with just the beef, peppers, onions, and a bit of cilantro.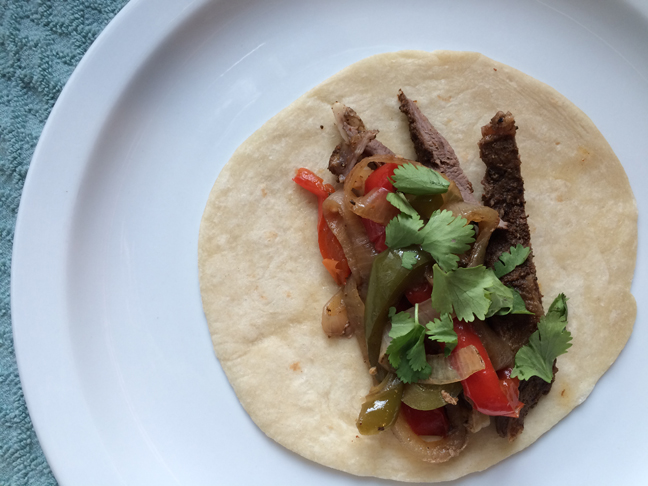 I added a couple dollops of sour cream and a bit of cheese to mine. Absolutely delicious!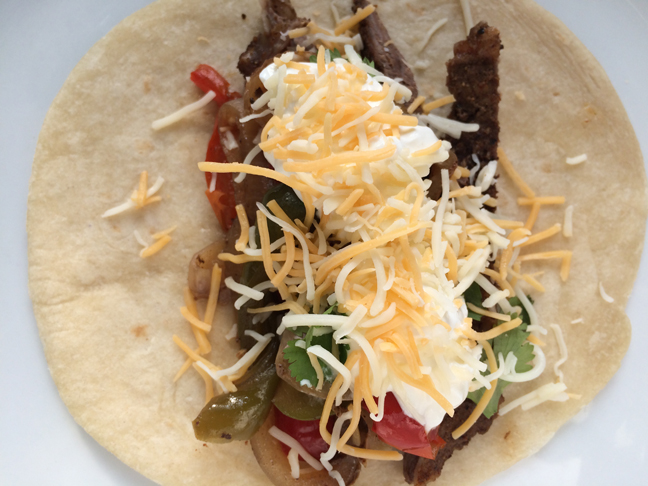 So tell me, are you apt to make weird substitutions like ginger for coriander? Or are you a stickler for following the recipe?
4 years ago:
Ingredients
2 green peppers, sliced
2 red peppers, sliced
2 onions, sliced
3 pound beef sirloin tip roast
1 T chili powder
2 t cumin
2 t coriander or ginger
1 t salt
1/2 t pepper
1/4 c soy sauce
4 t minced garlic
Instructions
Place sliced onions in bottom of slow cooker. Combine chili powder, cumin, coriander or ginger, salt and pepper. Rub seasonings into and over entire surface of beef sirloin tip roast. Place roast on top of onions. Top roast with sliced peppers. Sprinkle any remaining rub mixture, garlic and soy sauce over peppers.
Cook in covered slow cooker on high 3 to 4 hours, medium 5 to 6 hours, low 8 hours, or until internal temperature of roast reaches 160 degrees. Remove roast from slow cooker and slice into strips. Serve on tortillas and top with the peppers and onions.
https://sugarcreekfarm.net/how-to-cook-slow-cooker-beef-fajitas/