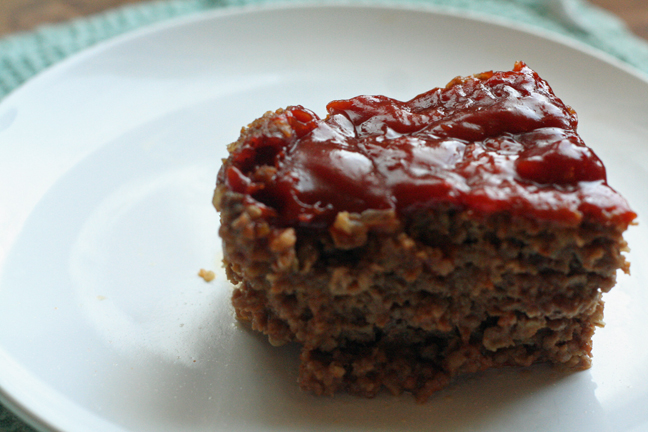 You guys, I seriously suck at food photography. I get so excited about eating that I forget to take a picture of the finished product while it's still fresh and hot. So I end up saving a little square of a leftover in a separate storage container and putting a note on it that says, "Do Not Eat!" so that I can take a picture of it later. Sad and all alone on a little plate. But maybe that's a good advertisement for this recipe, that it's so good I couldn't delay eating long enough to take a picture.
Apparently it's also so good that it's what Madeline requested when I asked her what she wanted me to make when she was home from college for the weekend. As my kids were growing up I've sometimes wondered what dishes will stand out as their favorites. For Madeline, this is one of them.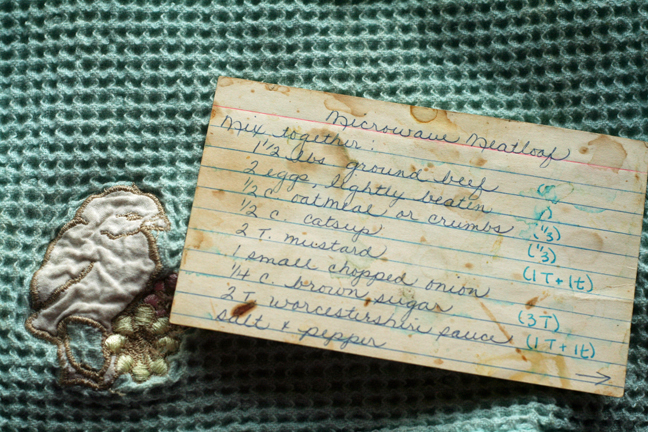 This is my mom's recipe, and as you can see it's well loved. It was originally to be cooked in the microwave, but I like to double it and cook it in the oven. (The notations in light blue are the measurements if you want to make it with just 1 pound of ground beef.)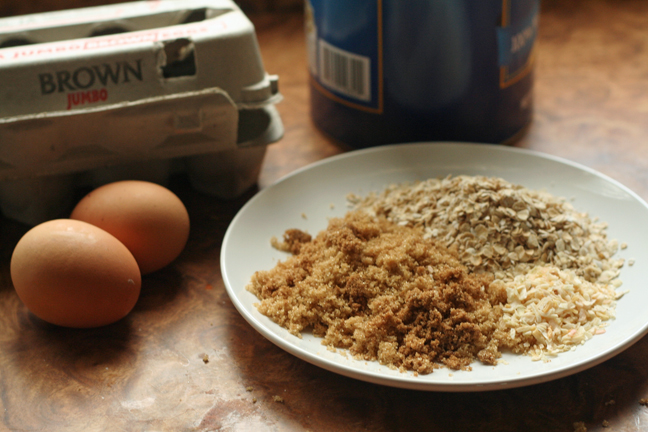 I always use oatmeal. I don't think it matters whether it's quick oats or regular rolled oats, I just use whatever I have on hand. Bread crumbs should work equally well. My one cheat is that instead of chopping up an onion I often use dried onion flakes instead – about a handful.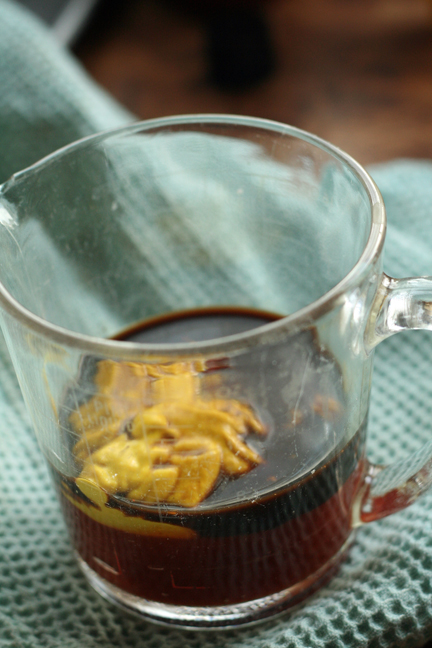 Then take off your rings and prepare to get messy! Dump the whole mess together and dig in with your hands until everything's mixed together well.
I take my broiler pan and line both the top and bottom parts with foil. Then I make a slit in the foil for about every other slit in the top part of the pan so that the fat can drain through.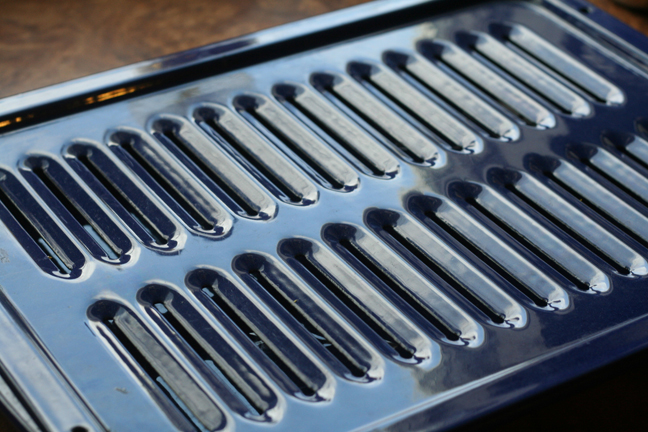 And here endeth the pictures. Because I was hungry and ready to get the show on the road already!
Then just dump the whole meatloafy mess onto the broiler pan and shape it into the general shape of a loaf. I try not to make it too thick so that it gets cooked all the way through.
Slather the whole thing with sauce and stick it in the oven. I only use about 1/3 to 1/2 of the sauce initially, then add more about halfway through the cooking time, and save the last third or if anyone wants additional sauce at serving time.
Meatloaf makes great leftovers, hot or cold. And it freezes well. And if you have more self-control than me, share an Instagram pic of your meatloaf with me!
3 years ago:
Ingredients
3 lbs. ground beef
4 eggs, lightly beaten
1 c oatmeal or crumbs
1 c ketchup
4 T mustard
2 small chopped onions
1/2 c brown sugar
4 T Worcestershire sauce
salt & pepper to taste

Sauce:

2 c. ketchup
4 T. Worcestershire sauce
6 T. brown sugar
Instructions
Mix all meatloaf ingredients together.
Shape into loaf on a broiler pan.
Mix sauce ingredients together and spread 1/3 to 1/2 of sauce over meatloaf.
Bake at 350 degrees 45 minutes, spread with additional sauce, and bake another 15 minutes.
Serve with remaining sauce.
https://sugarcreekfarm.net/how-to-cook-meatloaf/