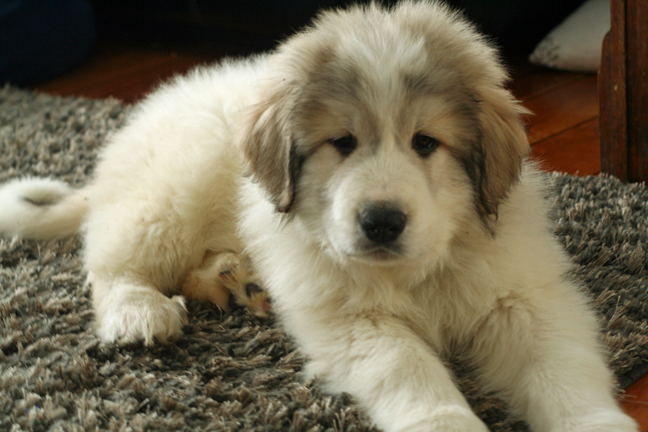 Our plan for 2014 was to get a puppy late winter, and have it in the chicken pen this summer with Ike to train it. At 10 years old Ike was an old man, he had definitely slowed down some, but he was in great shape and health for his age.
So when he passed so unexpectedly last weekend, we found ourselves having to move up our timeline. Ordinarily, I'm not the type of person to get another dog right after losing one. Ordinarily, I'm the type of person that needs a bit of time to grieve. But now we were going to need a puppy that would be old enough to be alone with the chickens this May.
Pyrenees pups are not all that easy to find, and we wanted one with working parents on a working farm. I contacted three different people around Iowa and Minnesota, but pups they had advertised just last week had already been sold. Our best bet was starting to look like a farm in Missouri, a 6 and a half hour drive away.
One last desperate Google search found me another listing. They were only an hour and a half away. I emailed the owner and asked some questions. My heart about skipped a beat when she said the puppies enjoy following around their ducks and chickens. Puppies that have already been exposed to poultry! We decided with a snowstorm predicted for the next day we should go take a look that very night after work.
When we pulled in the farmyard it was dark. From each corner of the farm, an adult Pyr emerged from the darkness and they all made their way to our truck. I was excited to see the puppies' parents at work like this. But it's also intimidating to be surrounded by 4 very large guard dogs.
I made Matt get out first.
But those dogs were only ready to attack him with love. Their owners came out, and we made our way to the barn to see the puppies. They shared the barn with turkeys, ducks, white pheasants, pigeons, and more. How awesome that they were already used to the sounds and smells of all those birds! Every one of them was friendly and sweet and surprisingly mellow, obviously well loved and well socialized. Our only decision at this point was boy or girl. Since we've always had male Pyrs, we decided to stick with that.
Of course the hardest decision is the name. I gave the family a list of possibilities and we tried some of them out for a couple days before finally settling on Titus. It seems like such a big name for a little puppy (although "little" is relative – at 10 weeks he's 28 pounds!), but just look at that head…
And his paws are absolutely ginormous. He'll grow into his name in no time.
I've been amazed at how quickly he settled into the family. We tried to have him sleep in his crate the first night. He started crying and whining and yipping, and then Ava started howling, and I thought, "Nobody's going to get any sleep this way." So I brought him up to our bedroom and put a rug beside our bed. Within minutes he was snoring, and slept all night without any accidents.
He's already acting like a Pyr. If I go from one room to another, he follows me in there and flops down where he can see me. When I move again, he moves with me and flops down again with that same big sigh that Ike used to give me that said, "If you'd just stay in one place my job would be so much easier."
He loves the snow, loves going out for chores with Matt, and already seems to be keeping an eye on the pigs and cows when he's out there. I'll share chore time pictures soon!
I still miss Ike, of course. I still find myself looking for him when I go outside, or heading to the garage to let him in for the night at bedtime. I can't call Titus his replacement – there's no replacing him – so I call Titus his successor. Titus has some pretty big paws to fill, but so far he seems like he's well on his way..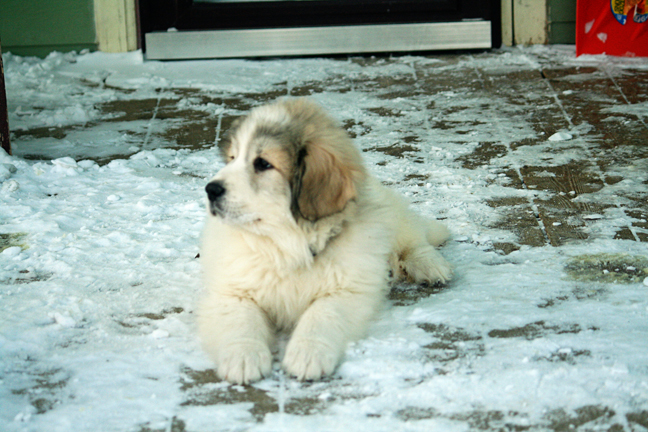 3 years ago: